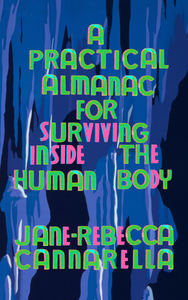 Prose poetry, chapbook, 36 pages, from Bottlecap Features.
A Practical Almanac for Surviving Inside the Human Body is a fever dream made up of hybrid prose poems that investigate how we depend on the world within ourselves and endure because of it. Organized by case studies, the collection starts in the world of the dead and moves backward through time to try and make sense of the mistakes the case study subjects repeatedly make. The sometimes-detached narrative voice of a scientist observes the studies as they live within their myths and spells. With creatures taking root in bodies, and those bodies trying to escape their troubles, a frequent question emerges from these poems: "how do we survive ourselves?" 
 
The subjects of the case studies learn how to feed themselves from within, finding comfort in playgrounds they've erected in their imagination as real to them as concrete and steel structures. Each subject pulls themselves apart to find the secret places within where the real them exist. They are buoyant or obnoxious, magical or ordinary. Survival is dependent on finding the hidden spaces and vacationing there, an entire world formed on the inside and large enough to carry each subject to safety.  
 
As the pieces move forward in the collection, so do the subjects of the case studies. They move, page by page, further away from the mysterious land of the dead where they all once started.
Jane-Rebecca Cannarella (she/her) is a writer and editor living in Philadelphia. She is the editor of HOOT Review and Meow Meow Pow Pow Lit, and a former genre editor at Lunch Ticket. Jane-Rebecca is the author of Better Bones and Marrow, both published by Thirty West Publishing House, The Guessing Game published by BA Press, Thirst and Frost forthcoming from Vegetarian Alcoholic Press, and Eleven-Hundred forthcoming from Really Serious Literature.