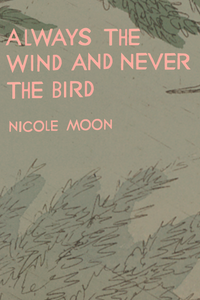 Prose poetry, chapbook, 32 pages, from Bottlecap Features.
Always the Wind and Never the Bird is a collection of scattered thoughts, misremembered and patched together memories, sentence fragments, run-on sentences, poems, and writings about the act of letting go to a firm tethered past that won't let go. Questioning everything from the universe itself to childhood promises to a simple pot of soup. It's about not being afraid to let go of the edge, to jump off a cliff and nosedive into something unknown.

It is the brave act of bidding past traumas and anxieties, regrets and broken hearts, and should haves and could have beens a final adieu without the what ifs holding you back.

It's to finally take flight and be the bird…
Nicole Moon is a hoarder of many things including old books and many many plants. When she's not writing, watching "The Secret Life of Walter Mitty" for the umpteenth time (which she's nearly memorized all the dialogue of word for word!), sleeping in past noon, or collecting knick-knacks and things she'll never put to use, she's more than likely daydreaming about scenarios that will probably never happen in real life. Always the Wind and Never the Bird is her first published book, but she certainly hopes it won't be her last!

She can be found writing on 1995june.tumblr.com or @andneverthebird on instagram. For any and all inquiries, you can kindly contact her at neverthebird@gmail.com.