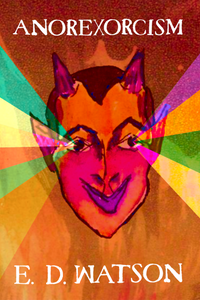 Poetry, chapbook, 40 pages, from Bottlecap Features.
E. D. Watson's Anorexorcism is a blistering, triumphant exploration of disordered eating, gender identity, and conservative Christianity. The collection chronicles Watson's struggle with self-harm, and the way those destructive behaviors were informed by church teachings about women and sexuality. Watson susses out other influences as well: beauty culture, misogyny, and a lack of clinical understanding around gender identity at the time she came of age.
Of this collection, Watson says, "These poems were written by, for, and through my body. For many years, I didn't understand why I engaged in such deadly behaviors, only that I couldn't anymore. Writing these poems was an epiphany. They represent the final stage in healing my relationship with my body, and liberation from toxic ideology. They are a record of my recovery, as well as a celebration of who and what I am, and what I've overcome."
The poems in Anorexorcism are a reclamation of appetites and a battle-hymn of self-love. They call out predators by name. These poems shed shame and run naked with scars and cellulite on display. They masturbate. They bleed and shit and meditate. They won't sit still in church. They are a little bit gay. They are not for your mom. They are for you.
E. D. Watson (she/they) is a poet and yoga instructor in Central Texas, with an MFA in Creative Writing and training with the Institute for Poetic Medicine. Their classes integrate asana with therapeutic writing to enhance healing and self-knowledge. She also helps produce When the River Speaks, a community poetry and art zine.