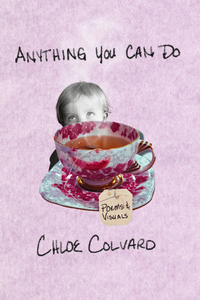 Prose, chapbook, 40 pages, illustrated, from Bottlecap Features.
Anything You Can Do is a collection of prose poems, short stories, and snapshots, all varying in length and subject. These aim to showcase the in betweens. The act of looking back on one's early life, while also looking ahead at adult life. This is at times hard to put into words, however the author set out to do just that. Themes of Chloe's work include family, womanhood, dating, and power dynamics.

Moments in this collection discuss Chloe's sudden move to New York as a 19 year old, which was a decision she made with no plan. As the speaker narrates and navigates her newfound environment, she looks back on childhood moments, and all of the places she used to be.

Through 17 prose pieces and 10 visuals, Chloe creates flashes of meaning, without the grounding of full context. By doing this, she is similarly replicating how memory works for many people who've experienced trauma. In her exploration of memory, Anything You Can Do highlights the ability to process trauma. The book displays the uncovering of looking back, and the grieving of one's own life, without excusing the behavior that caused the pain. Chloe aims to recognize the good, while also understanding the bad–and that sometimes, a young person's perspective on what is "good" often changes as they enter adulthood. This change can be negative, but it can also be very positive.

In Anything You Can Do, the bittersweet words share both how the moments felt, but also how they've changed based on what the narrator knows now. The collection was designed to plunge into a reader's heart in search of answers–answers of which we may still have yet to find words for.
Chloe Colvard is a multidisciplinary artist and writer living in Brooklyn with her two cats. She has lived in five states growing up, but she now considers New York to be her home. She creates in order to speak about things she previously felt unable to as a child and into her early adulthood. She loves making new friends everywhere she goes, from strangers at concerts, to the owners of her local bodega. She hopes to make others feel less alone.

Chloe graduated Summa Cum Laude from The New School in 2022 with her Bachelor of Arts in Creative Writing. Additionally, she acted as Editor-in-Chief of 12th Street, an award-winning literary journal publishing many genres of work. Chloe recently finished an artist residency at Carrie Able Gallery, the same gallery that has featured her works in two group exhibition. Her latest visual project, The Latex Collection, was published in Curated by Girls.