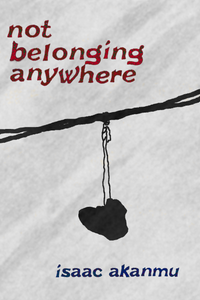 Poetry, chapbook, 48 pages, from Bottlecap Features.
not belonging anywhere is a collection challenging personal identity and poetic form. Dribbling through basketball arenas, barbecues, family get-togethers, funerals, worship services, and prison courtyards, not belonging anywhere continually searches for bodily and spiritual rest in a tired world.
As a conceptual collection, each poem borrows its title from a franchise in the National Basketball Association (NBA). As readers travel through the league's divisions, the poetic form shifts, featuring forms like haibun, the American sonnet, Terrance Hayes's golden shovel, and hybrid inventions. Cultural and faith-filled experiences — both personal and witnessed — explore themes of injustice, miseducation, love, family, hope, and purpose. not belonging anywhere has something for everyone, especially free agents in search of a permanent team.
Isaac Akanmu is a Nigerian American from Staten Island, NY. His poetry appears in Rejection Letters, cool rock repository, OROTONE Journal, and more. He lives in Charlotte, NC. Find Isaac at isaacakanmu.com and social media (@insteadofisaac).