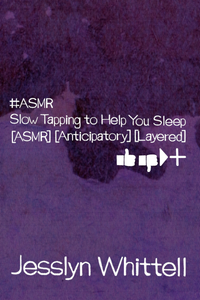 Poetry, prose, chapbook, 36 pages, from Bottlecap Features.
Slow Tapping to Help you Sleep [ASMR] is a love letter to the YouTube genre of ASMR, a constellation of half-imagined caresses, and a flimsy answer to the problem of feeling good, feeling ok, feeling at all, under the grind of capital. The best these poems can offer is slightness, the tingles on the periphery of the self, and they're learning to be okay with that. They topple through a digital archive of sponsored ads, bad haircuts, disability, soot, and fungi, angling toward blissful and playful destruction of the lyric "I."

Part lullaby and part residue, Slow Tapping to Help You Sleep [ASMR] is here to trace the aches you forgot about, and if that fails, to put you to sleep.
Jesslyn Whittell lives in Los Angeles. When she is not a poet, she is a graduate student.