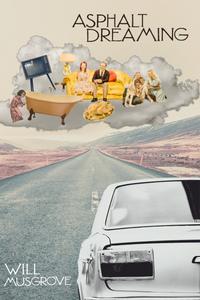 Prose, chapbook, 36 pages, from Bottlecap Features.
Asphalt Dreaming is a chapbook full of dreamers, of characters hoping to rise above their trapped lives. The collection studies faith, existentialism, and hopelessness in a non-devout, direct way. With a sepia-tone feel pervading throughout the chapbook, its exploration of small-town uneasiness and the restlessness of the civilians within is both nostalgic and full of anxiety.

Throughout the fourteen flash fiction stories, a former pastor delivers pizza, a family burns down the Gävle Goat, a scream artist loses their ability to fear, a pair of factory workers drink toe cocktails, a man loses his reality, a group of friends go on a gross scavenger hunt, and much more. Despite the variety of unique premises, the characters in each story are linked by their desire to become more than they are.
Will Musgrove is a writer and journalist from Northwest Iowa. He received an MFA from Minnesota State University, Mankato. His work has appeared or is forthcoming in TIMBER, Cleaver Magazine, Oyez Review, The Lumiere Review, Tampa Review, The McNeese Review, Vestal Review, and elsewhere. When he isn't writing, he's often wishing life was like a 1990's Saturday morning cartoon.