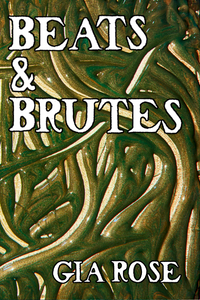 Poetry, chapbook, 44 pages, illustrated, from Bottlecap Features.
A whimsical dive into unexplored realms, Beats & Brutes is an allegorical allusion of modern dystopias interwoven with malevolent forces in an archaic approach to magnetic rhymes and surrealist schemes. This introductory chapbook submerges the reader into worlds of desolation and suspense. From mystics to beasts to freaks, each mysterious theme is a strange hallucination of possibility. Beats & Brutes is broken up into two non sequitur chapters; Beats, a cadence of cosmic innuendos, in tribute to the beat generation and Brutes, a beastly brawl of mind over matter and dystopian forebodings.

This book highlights what our world is headed towards; obscure environments, entrapment of the soul, and how we can correct our wrongful ways. On the other hand, a playful approach to certain vulgar encounters. It's a lucid ode to the great poets that opened the doors to extreme literary oddities. Each stanza contains subliminal messages and connects the abstract with reality. Our existence is divine and in order to restore nature we must become aware of the harm we humans conduct on the planet. This collection defies the ordinary and awakens the unconscious, instigating the serpent of the mind.
Gia Rose is a 22 year old poet, lyricist, and singer. She is a New Jersey native, but has traveled all around the United States in search of her incomparable muses. This is her first ever publication. She has written poetry since high school, but became heavily indulged into it at age 21. Her enigmatic style is influenced by philosophy, transcendence, and timeless lore. She is the lead singer & lyricist of the psychedelic blues rock band The Azures. Music is her language, and lyrics are her stories. However, her first love, poetry, is limitless and undefinable, in her opinion. She believes poetry opens the doors of perception and existence freeing the mind.