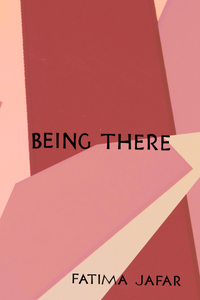 Poetry, chapbook, 36 pages, from Bottlecap Features.
Being There functions as a book of gratitude and observation, each poem focusing in on specific moments and emotions in the poet's life that felt almost holy, worthy of being preserved and honoured. The running thread in the chapbook is that of being grounded in the present, and keenly aware of the fleeting, hidden moments in one's day. The gratitude which runs throughout the chapbook is undergirded by the poet's religion, through which come the practices of observation, reflection and devotion.

Each poem evokes the sense of the sacred in these hushed spaces, ranging from the insular world of childhood to the solitude of adulthood. The poet's mother, the moon, and the movie theatre are all regarded as sites of magic. Of blessing. With a varied use of poetic forms, such as sonnets and ghazals, Being There functions as both a microscope and mirror, paying homage to the characters that color the poet's world, in both real life and fiction. It serves as a prayer for them, and for each fragile moment that willed itself into remembrance.
Fatima Jafar is a Pakistani poet living in Boston, where she is an MFA Poetry candidate at Emerson College. She is a Poetry Reader for Muzzle Magazine and is the co-creator of the South Asian literary platform DHOOP Journal (www.dhoopjournal.com). Her work has been published in, or is forthcoming, in Eunoia Review, The Sandy River Review, The Shore, Anti-Heroin Chic Mag, The Pinch and more. You can find her on Twitter at @rafajf2112.