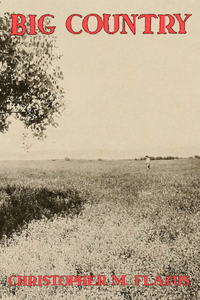 Prose, chapbook, 16 pages, from Bottlecap Features.
Big Country follows the tale of outlaw poet Bill "Big Country" Bandolini, a Texan man of many contradictions and unique experiences. From his time behind bars, where he first discovered true love and the power of poetry. To his later life writing and living with fame, infamy, or a little dash of both. However diminished he may be after facing—and surviving—many obstacles and the grief of loss, Bill must find a way to continue with his art. His only true salvation.
Big Country embodies the outlaw spirit of Texas, from its wild nature, unpredictable weather, to its secret history. Most importantly, it embodies the outlaw tradition, evokes the open plains and deserts of West Texas, the highways that traverse the state and find their destination somewhere in the soul of his gentle, yet fierce outlaw poet soul.
Christopher was awarded the InPrint C. Glenn Cambor Fellowship in 2019 and graduated from The University of Houston with an MFA in Fiction in 2023. Christopher has twice attended and received an honorary degree from The Institute for World Literature, most recently over a month-long period of study and presentations, talks, and symposiums in Mainz, Germany. As well as an active member of international academics (albeit in his own, atypical manner, for instance being a writer with a master's amongst a sea of critical theory PhD students or graduates, Christopher discovered one must hold one's own in such an environment!) Christopher is also a contributing staff member of both the Dublin-based literary journal New Square Magazine, and the magazine he once co-founded, Defunkt Magazine, based in Houston. He is also an active member in New Square's Journal's literary society, "The Sancho Panza Literary society" captained by the Irish novelist and professor, Joseph Reynolds. Christopher is currently shopping his first novel, My Life Among The Outlaw Poets: The Books of Death, Life, and Hope, from which this chapbook borrows its first chapter. The novel is a rogue's gallery of outlaws and cowboy poets that explores the author's experience of the region and the myth of the American west as well as his culture south of the border and life along its margins.