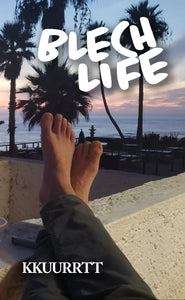 Prose, chapbook, 32 pages, from Bottlecap Features.
Everybody loves the beach, right?
Nah. The beach sucks.
This ain't no 'I LOVE THE BEACH' placard and platitude seen for sale (overpriced of course) at one those tourist trap spots that seem to exist only for vacationers. Blech Life is a collection of flash, micro, and smallies that grapples with one's refusal to enjoy the beach if they wanted to. This is for the rest of us who can't quite come to terms with living in Paradise.
Power lines and palm trees. Dogs in sunshine and drugs with friends. Lounging lavish in the sand and really basking in those rays of how the hell did I get here. The best time you've ever had? Why don't you try on that beach bum life for a while.
KKUURRTT lives by the beach. Good at Drugs is available from Back Patio Press.