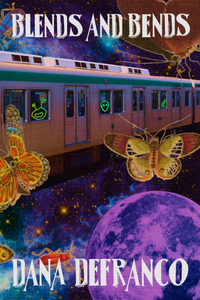 Poetry, chapbook, 28 pages, from Bottlecap Features.
Blends and Bends is a collection of poems that connects intimacy, estrangement and longing among strangers and those most dear to us. Blends are tucked inside liminal spaces, where we find ourselves on the precipice of intuition; moments when we must choose to trust ourselves over the lure of false narratives, which distance us from our deepest authenticity. Bends are hard-learned lessons, those moments when irony slaps with its undeniable rawness. We regularly bear witness to the bends. It is the person who waits in line with all their might, positioning to gain first entry through a single door only to find out that the doors have multiplied and there is entry for us all.

With its surrealist and absurdist themes, Blends and Bends presses us to negotiate our humility each time our humanity is challenged. The poems explore ways to break from the quotidian, journeying through a range of landscapes where the complexity of human emotions long to make amends. Blends and Bends moves much like breath, rising to bind and free itself in an attempt to re-envision and redefine the realm of possibility. For the speakers inside the poems, the selection serves as a survival guide for self-acceptance and deep, binding love.

Pulling from the tradition of antipoetry, Blends and Bends weave the personal and abstract with bold enthusiasm. Poems range in form, pushing the boundaries of the traditional lyric. The speakers address readers head on, asking them to locate themselves within the confines of the text. Who are you and what do you represent? Where do you stand and by whom? Blends and Bends unfolds as a labyrinth of sorts; gateways collude and collide among family, friends, strangers and the not so friendly. There are portals through which to travel to find a space for love, freedom, healing, and reverence for all living things.
Dana DeFranco is a writer and educator in the San Francisco Bay Area. Originally from New Jersey, Dana was born in Paterson and grew up in Passaic County. Her work explores the ways positionality functions in the everyday using social commentary and absurdist themes. 

Dana's poetry has been published in Northridge Review, The Raven's Perch, Troublemaker Firestarter, 2River View and Written Tales. She was featured on KALW's Bay Poets, a weekly radio program in San Francisco. Dana is completing her MFA in Creative Writing, Poetry at Mills College in Oakland. She is a full-time Pisces.