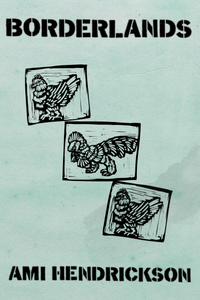 Poetry, prose, chapbook, 28 pages, from Bottlecap Features.
So much of life is lived in the borderlands—uncharted, uncivilized areas where wild whims blow. There, the elements that define us shift without warning, tripping us over the boundary from the then we know to a now we don't.
By turns funny and bittersweet, Borderlands' 12 selections of poetry and prose explore the quiet evolution that occurs in the prehistories, the peripheries. A chicken remembers her tyrannical roots. The fog of grief distorts timelines. Decisions made in the dark cause life-altering ripples. Even Paradise has its limits.
Ami Hendrickson has written award-winning screenplays and ghosted bestselling books for famous people while resigning herself to never becoming a household name. Ami especially enjoys speaking to writers and conducting writing workshops. She graduated with distinction from Andrews University and holds degrees in English and Education, though had she been aware that "panda cuddler" was an actual paying job, her career path would have been quite different. She loves pu-erh tea, which she fears makes her sound pretentious, and is learning to play the harmonica, which she knows does not.