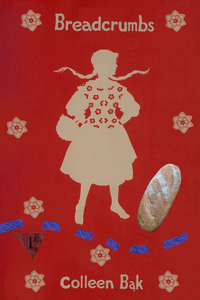 Poetry, chapbook, 28 pages, from Bottlecap Features.
This poetry collection weaves memory and history together into small stories, or breadcrumbs, to follow forward and follow back as they influence ancestral futures and pasts. The themes of food, linguistics, and longing weave throughout this exploration of the author's learning about her grandparents' lives while imprisoned in concentration camps in WWII and as immigrant refugees in the US, eventually running a bakery.
Breadcrumbs is a way of tracing a family story, of finding roots and reason. This collection of poems explores the truths, histories, memories and imaginative elements that compose a family's past. The author only ever knew her grandmother, but due to language barriers and family rules, it was not permissible to ask her about her past. And these poems were written as a way of working through this and reaching out into the spoken and the unspoken, woven through with my lived experience of her. These are offerings to my ancestors and my children, and all those carrying the heavy secrets (and truths) of their own past stories.
The poems in Breadcrumbs were written to explore my family roots and the broader concepts involved in making sense of one's past; the knowable and the unknowable. How these ideas entwine to create the stories we all tell ourselves, and others, in the creation and recreation and constant discovery of ourselves and our places within, and balanced between, our ancestries and futures.
Colleen Bąk is a neurodivergent poet and mom of three, who loves exploring the mysteries and magic of family stories, poetry and Houdini. She spent twenty years living in NYC; where after attending NYU for six years, she began attending births, throughout the city's boroughs (as a doula and a midwife's assistant) and tending to Houdini's grave, as one does when they have loved him since childhood. The city wilds will always be her home, but now she lives in fanciful proximity to the ocean, where she soaks in the salt air, like medicine, swims every chance she gets (thinking about sharks every single watery moment) and savors having actual space to move in. Regardless of location Colleen is always making sense of the world around her by writing poetry and embracing the magic in everyday life.