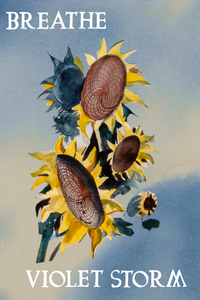 Poetry, chapbook, 36 pages, from Bottlecap Features.
This book is for the person who, though distracted by many a thing, still hears a yearning in their heart. There are also poems for those who feel pain and feel it deeply. It's a wandering through a transmutation of raw feelings into words when words are the only thing there is. It's a book about finally pausing to acknowledge sensations and feelings. Dripping with emotion and creating stunning visions through mind and body, this collection of poetry also touches on awareness and the very things that make up reality.
The words whisper to you like a close confidant, speaking briefly but fully of some exciting experiences. There are uttered encouragements and pauses to collect words but eventually, the words and feelings unfold. The end bores you back and still only implores one thing after you read this, just breathe.
Violet Storm is an author/musician with a penchant for words and music. This will be her first collection of poems published. Violet has been writing creatively for years and has also been working on other creative endeavors like painting, sewing, and crafting. She's currently working towards a musical album with another musician. Violet also plans on releasing more poetry as time goes on.