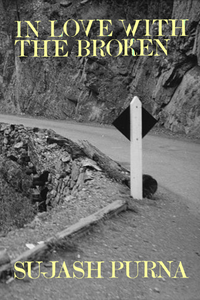 Poetry, chapbook, 28 pages, from Bottlecap Features.
The poems in In Love with the Broken address the angst of the unheard, the marginalized making it to the next day during a pandemic. They speak of the dual reality in which an immigrant is supposed to be "happy", is supposed to "love" a country while the unloving continues; the unseen microaggressions towards the immigrant in a seemingly welcoming country with its institutions that allow violence against its marginalized folks.

In Love with the Broken is an elegy as a collective work. It is singing an unendearing dirge for the dead yet zombie institutions that hold us together somehow without caring for the wounded, the injured, the still-alive.
"Like a tapestry, Sujash weaves together both lived experience and notions of possibility through craft and color. These are a panoply of soliloquies that are as honest as they are imaginative. These poems speak to the idiosyncrasies of the human condition and challenge the reader not to turn away."

–Jason Vasser-Elong, Author of Shrimp (2Leaf Press, 2018)

"Sujash Purna's In Love with the Broken is a radiant exploration of the paradox of seeking love and belonging in a world saturated with violence. In lush and imaginative poems, the speaker recounts both the beauty and the dangers of building home in the diaspora, allowing them to coexist: "Every time you and I / walk inside the door, hand in hand, / there is a man accused and arrested / for the sole crime of existing". The speaker's journey is gorgeously rendered, tracking many different possibilities of homecoming. Purna asks us what it means to "grow a pair of wings" in a place that doesn't love you back."

–Nisha Atalie, Winner of the 2021 Eileen Lannan Poetry Prize

"As we read In Love with the Broken, we gain insight into the culture of immigration with the poignant truth: "[T]he past guards us all [...]." Whether it is the Borsha Monsoon Festivals in Bangladesh, dreams stained with homesickness, and today's tenacious racial climates, Sujash Purna not only shows us ghosts from his past but the phantoms from ours. His poems often transfigure into mirrors with anomalous clarity, which should beg us to ask ourselves, "How shall we attempt a future where we all exist without our masks and guilt?"

—Rex Ybañez, Two-time Pushcart Prize Nominee
Sujash Purna is a Bangladeshi poet and photographer based in Madison, Wisconsin. A first-year PhD fellow at the University of Wisconsin-Madison, he is the author of Epidemic of Nostalgia (Finishing Line Press) and Azans for the Infidel (Mouthfeel Press). His poetry appears in Reed Magazine, South Carolina Review, Hawai`i Pacific Review, Kansas City Voices, Poetry Salzburg Review, Gutter, Stonecoast Review, and others. His photography can be found on Instagram @poeticnomadic