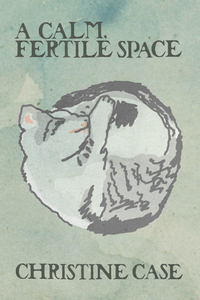 Poetry, chapbook, 24 pages, from Bottlecap Features.
In this debut collection, Christine threads her memories of childhood summers in Hawai'i with present-day bereavement. She explores questions of belonging and family, through a knowingly limited perspective.

Dolphins, kittens, coconuts, and bowling balls fill this collection, traveling across both internal and external landscapes.

This is a fragmented fairy tale about family and space; about Hawai'i, loss, and laughter; about trees and seas; about patriarchs and their ghosts.

Christine (she/her) is a queer disabled poet PhD writing about fairy tales and sing-alongs, ocean critters and lava flows. She grew up with cousins and grandparents living in Hawai'i; she misses the ocean, but loves the rain and snow. She is currently living her love story in Pittsburgh, PA, where her kitten likes to stomp the keyboard and erase her writings. Thanks to her therapist and health care team!