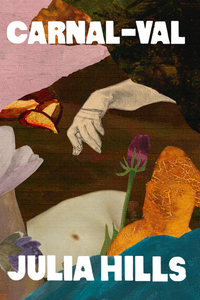 Poetry, chapbook, 20 pages, from Bottlecap Features.
This collection has been an on going project since early 2023. It started with "I Hate to Have a Body" and slowly I added more flesh-fueled poems to the mix. I wanted to create something that represented various aspects of the body–the variety of experiences I have had and others may have had with their bodies; I am obsessed with the body. It stems from a troubled past with my own body but has grown to something more beautiful; finding how to celebrate my body and all its faculties.

Julia Hills is a new poet who just wrapped up her undergraduate career in English Literature at the University of Maine. This is her first time being published and she could not be more excited. During her undergraduate career, she was the poetry editor for her school's Undergraduate Literary Magazine; she also designed the cover which was one of her favorite aspects (aside from reading and selecting all the poetry for the edition)! In her free time, Julia enjoys scavenging for trinkets in order to romanticize her rather mundane life.