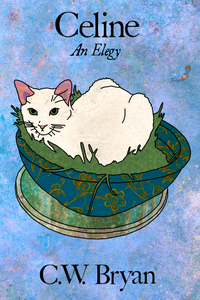 Poetry, chapbook, 20 pages, from Bottlecap Features.
This short collection of poems is an Elegy for my cat Celine. She died when she was a year old. That is not nearly enough time on this earth for a soul so sweet. I wanted, needed, to remember her, immortalize her. So I did the only thing I could think to do: put her on the page.

These poems capture the world without Celine, but they are imbued with her soul, her personality. The poems in this collection explore the unfairness of life, the fleeting nature of existence, and the struggle to articulate the overwhelming pain of losing a beloved companion. The collection contemplates the intangible aspects of departure, the dissonance between external normalcy and internal turmoil, and the delicate balance between life and death. The pages paint a vivid picture of the fragility of life, the inevitability of mortality, and the longing for a sense of continuity beyond the realm of the living.

And so thank you for reading this. Participating in this effort to create, eternally, a window. A window I can always look out of and see butterflies, just as Celine always did. It is a powerless feeling, the complete lack of agency in preventing Celine's cardiomyopathy, her first death. There was nothing to be done. This chapbook is what I can offer her.
C.W. Bryan is a student at Georgia State University. He lives with his clowder of cats (the best to ever do it) and girlfriend in Atlanta, GA where he writes poetry, nonfiction, and short fiction. He is currently writing daily poems, articles, and prompts with Sam Kilkenny at poetryispretentious.com.