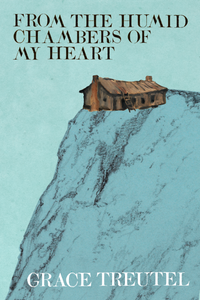 Prose, chapbook, 32 pages, from Bottlecap Features.
This collection of five flash fiction pieces is an exercise in self-discovery through grief. Each piece centers around the ideas of loss, death, rebirth, and self-knowledge, though in many different ways.

In one, a boy, abandoned by humanity and by his own father, clings to hope in the face of overwhelming despair and isolation. In another, a woman's inner critic finds she isn't as critical as she assumed. We find closure in ghosts and silence in stone and that not all eruptions are loud, but all are final. Oftentimes ends are just beginnings in sad outfits, so please use these pages to mourn and release in whatever way feels right.
Grace Treutel is a third-culture kid currently based in the South working towards her licensure in Marriage and Family Therapy. Her work has received repeated recognition in NYC Midnight contests, and she's been published in Pregnant Chicken, Olive and Fox, and Short-Story.me. Most often, she shares her writing in short-form poetry on a quiet Instagram account, though she is gathering gumption to start sharing both prose and poetry far and wide. This chapbook is her first step.