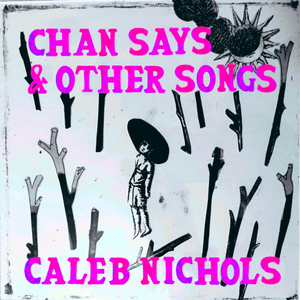 Poetry, chapbook, 56 pages, from Bottlecap Features.
At the intersection of land/sea, sexuality/gender, and fairy tale/reality CHAN SAYS & OTHER SONGS is a poetic, fragmented memoir that interrogates what it means to inhabit a space. From the spaces of childhood, of memory, of the body, of the performance of genders, to the niche spaces of modern queer poetics, and the traumatized self. At times whimsical and by turns deeply scarred, this is an interior landscape humming with hurt, possibility, desire, and an impulse to confront discomfort while embracing beauty. 

Many of the poems in this collection have been meticulously erased, or excavated, in order to create something like an after-image of the poems which convey new meanings that often contradict or complicate the original. My intention is to interrogate myself in the same way an erasure poem might interrogate another text: by mining the text for images and meanings that exist within the text itself.  The poems and erasures are meant to face each other on opposing pages, so that as the pages turn the erasures sort of lift off of the originals, and so that they might be read as if in translation. Much of this work felt less like erasing my own words and more like translating, excavating, or exhuming the meanings within, or possibly like witnessing an erosion-like phenomena, the result of which creates something like Sapphic fragments.
CHAN SAYS & OTHER SONGS is a companion piece to Caleb's Kill Rock Stars EP of the same title, available at https://calebnichols.bandcamp.com/album/chan-says-other-songs
"Chan Says & Other Songs is a severe book. These are poems of myth and pop, of crush and camp, where "desire forms / a push pull loop." I admire how Caleb Nichols withholds as he reveals: in spite of life's "petty little violences," he finds tenderness in everyday conversation, agency in "beautiful disappointment." This is an edgy, ambitious, celestial collection."
 
—Randall Mann

"Nichols is a poet keenly-attuned to the strange, and how strangeness can take root and flourish in places it feasibly shouldn't. This chapbook is choraled by the eponymous oracle Chan, and through her Nichols probes how one is "so sweetly held, in the / ripe red center of things". With a dextrous voice and a hard-won wisdom, these poems mark out a poet to read hungrily and entirely, then when satisfied, find yourself "leaning back / into / perfection"."

— Mícheál McCann

"Caleb Nichols writes 'desire forms / a push pull loop' and then, poem by poem, shows us the power of desire to forge and to break bonds. The blossoming of homoerotic desire, the desire to be loved, not just tolerated, and the desire to be one with Chan, a sister-self, are rendered in language that's both direct and lyrical. At the center is the speaker's ongoing desire to love themselves, to say yes to his own beauty. This chapbook is beautifully structured— I'm especially taken by the remixes. These poems are moving and marvelously queer."

— Eduardo Corral
Caleb Nichols is a queer poet and musician from California. His poems and prose have been published widely in places like Poetry Wales, 14 Poems, Queerlings, Redivider, 45th Parallel, Talkhouse, and Truthout. His Kelp Books chapbook Teems/Recedes was called "a gorgeous abundance" by Chen Chen and his pamphlet of prose Don't Panic was published by Broken Sleep in 2022. Caleb also has a new poetry pamphlet forthcoming from Broken Sleep in 2024. A best of the net nominee, and a recipient of an Academy of American Poets University prize, Caleb is a PhD candidate in Creative Writing at Bangor University in North Wales, where he currently lives. Caleb tweets @seanickels. 

www.calebnicholsis.gay