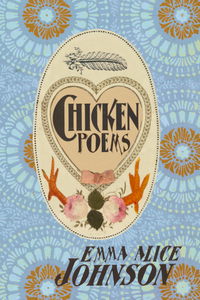 Poetry, chapbook, 20 pages, from Bottlecap Features.
Chickens have been a part of human life for about 8,000 years. They've only been a part of Emma Alice Johnson's life for two years, but that has been long enough for her to see that they are far more than livestock – they are strong-willed birds with unique personalities, descendants of dinosaurs whose majesty is masked by a history of being seen only as producers of food.

That's why Emma adopted them in the first place. You move to a farm, you need chickens. That's just the deal. Fresh eggs every morning. She was surprised to find those eggs served with a side of sweetness that made her fall in love with these delightful creatures.

Chicken Poems offers a glimpse into the lives and adventures of each of the chickens that live on Emma's Wildflower Farm. Poems are supplemented with autobiographical information on each chicken, as well as a brief history of the different chicken breeds.
Emma Alice Johnson grows wildflowers and writes. She lives on a farm dedicated to conservation of native plants and endangered insects. She is a two-time Wonderland Book Award-winner. Her short fiction has appeared in more than 75 publications, including The Dark, Dark Discoveries and other dark places. When she isn't planting or writing, she can be found running through the woods with her pet pig, singing to her chickens, lifting weights, reading or watching B-movies while snuggled with her cats.