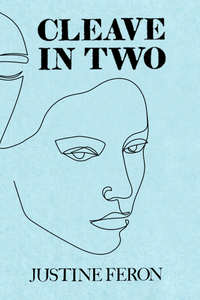 Poetry, chapbook, 24 pages, from Bottlecap Features.
There's a Toni Morrison line, made no less powerful by the fact that it's been quoted a million times by a million people in a million places: You are not the work you do; you are the person you are. And yet, the act of divorcing the two – of writing about life like work doesn't exist, and not writing about work, lest you bore people to tears – bears little resemblance to how many of us actually live. For most people, life is a murky, maddening, and complicated combination of what we do for love and what we do for money.
Cleave in Two is a series of scenes and reflections about the personal, the professional and the intersection of the two. In it, the author paints a portrait of a personal life rich with meaning and a professional life as a brand strategist in which she assesses and invents meaning for her corporate clients. At home, she falls in love, grieves, tries to make art, and devotes herself to her children. At work, her parallel devotion is to questions like "If this hot sauce was a person, what kind of person would it be?" and "Does this beer brand have a responsibility to be an ally?

Cleave in Two's title was chosen in homage to the emotional complexity of being both a person and a worker in the world, often simultaneously. Cleave is a contranym – one of those rare and fascinating words that means two different, and opposite, things. Just as it can mean 'stick together,' it can also mean 'split apart.' Both meanings are relevant to this look at work and life.
Justine Feron is a writer and advertising executive whose essays about pregnancy and motherhood have been published in outlets including the New York Times, Slate, and Romper. Born in Canada, she now lives in New York City with her husband and two young sons. She studied creative writing with National Book Award winner Tim O'Brien, was a 2022 artist-in-residence at The Studios of Key West, and won honorable mention in the Bellevue Literary Review's 2021 nonfiction prize. She's currently completing The Almost Maybe Finally Mother, a memoir that begs a not-so-simple question: what makes someone a mother?