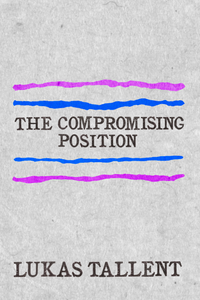 Prose, chapbook, 36 pages, from Bottlecap Features.
The Compromising Position is a collection of flash fiction that explores the distance between two people and the all-consuming desire to bridge this distance. Set in the American south, the characters in these stories restlessly come together and split apart at movie theatres, Olive Garden, CVS, and of course, each other's beds.

Tallent's stories are linked through his narrator, Flip, so named for how he sleeps with men and women. As we follow him through adolescence and early adulthood, we trace the incredible complexities that occur when you become close with another person. And in that fog of desire lie mermaids, preacher's sons, meteor showers, The Waster, and the often uncomfortable truths these characters must face.
Lukas Tallent lives in New York City. His work has appeared in Door is A Jar, Maudlin House, Spartan, One Teen Story, and many other places. You can find more of him at lukas-tallent.com