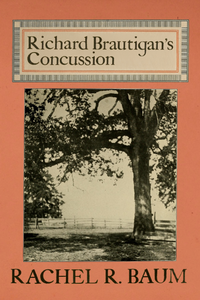 Poetry, chapbook, 20 pages, from Bottlecap Features.
When poet Rachel R. Baum suffered a concussion, she experienced the rather odd compulsion to reread all of Richard Brautigan's work. She had knelt down in her garage, and then stood up, cracking her head directly into her bicycle, which was hanging upside down from the garage ceiling. Her world became a different, and quite colorful, place with a head injury.

Richard Brautigan (1935-1984) was a popular writer and poet in the 1960's, whose themes touched on nature, life, and emotions. He was a gentle soul, and used simple, direct, often humorous language in his short stories, novels, and poetry.

Although she had read his books as a teenager, reading them again prompted Baum to challenge herself to write poems inspired by his work. While still maintaining true to her own unique voice, Baum tried to capture Brautigan's quirky outlook on humans and their interactions with each other and the world.

The titles of the poems in this collection borrow from Brautigan's book titles. For example, the title of Baum's poem "Historical Abortion, Not a Romance" was derived from his book The Abortion: a Historical Romance, 1966. The subtitle of "Historical Romance" is "Or The Pill Versus the Copper 7 Disaster", a takeoff on Brautigan's poetry collection called The Pill Versus the Springhill Mine Disaster. Trout Fishing in America became "Trout Fishing in Viareggio". Brautigan's The Tokyo Montana Express inspired the title of Baum's poem "The Gallatin Gateway Montana Express".
Rachel R. Baum is a Best of the Net nominated poet, editor and blogger. She is the editor of Funeral and Memorial Service Readings, Poems and Tributes (McFarland, 1999), recipient of 2000 Best Non-Fiction by Today's Librarian. Rachel is the founder of Moving Mountains Poets, a group of women poets over age 60, as well as the Saratoga Peace Pod, crafters who create warm items for families in crisis. Her poems have been published in OneArt, Jewish Literary Journal, The Phare, Raven's Perch, New Verse News, and others. She chaired the committee that selected the first Poet Laureate of Saratoga Springs, New York. She is a former librarian, professional dog trainer, Adirondack hiker, kayak angler, and licensed private pilot.