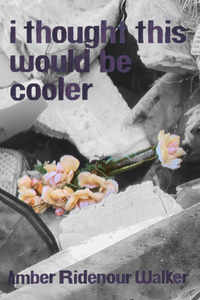 Prose, chapbook, 28 pages, from Bottlecap Features.
i thought this would be cooler is a collection of sadly true, hilariously awkward tales of growing up as a queer art kid in a small town in the 1990's and then fleeing for bigger cities. Through this series of flash memoir pieces, the protagonist trails her ill-fated romantic escapades and artistic hopes behind her through cities in the Pacific Northwest, documenting hangovers and heartbreak, failure and casual terror, broken bottles and busted bones, from age 15 to 25.

Obsessively edited and polished over nearly a decade, i thought this would be cooler is a gritty little swan song to the Pacific Northwest Art Scene of the early 2000's, as well as a bildungsroman that taps into the anxieties that come with bisexual invisibility and denial. Modeled after the casual tone of Diane di Prima's Dinners and Nightmares, i thought this would be cooler takes the reader through Polaroid-like flashes that sometimes illuminate, and other times burn.
Amber Ridenour Walker was raised on a 100-acre orchard, in a rural central Washington town, and left for other parts as soon as she was able to. Her poems and short stories have appeared in 20 Minutes in Portland: A Special Edition of The Portland Review, Gumball Poetry, Word Riot, The Clementine Zine, Juniper Literary Review, Pile Press, Jaden Magazine (UK), Local Smoke, elimae, ALARM Magazine, Fast Forward, 580 Split, Tiny Spoon, The Corvus Review, Wisdom Body Collective, LEON Literary Review, and Bombay Gin, among others. Her first full-length book, Surfacing, was published by Free Lines Press (France and UK) in August of 2021. Amber holds an MFA from The Jack Kerouac School of Disembodied Poetics, and she lives in Colorado Springs, Colorado. You can find her at amberridenourwalker.com, on the Free Lines Press website, on Goodreads, or scribbling away at her favorite local coffee dive.