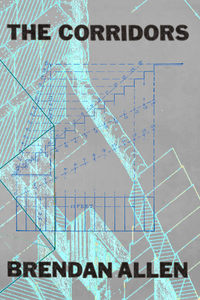 Poetry, chapbook, 36 pages, from Bottlecap Features.
The Corridors is a single long poem that thinks about how bodies move and occupy space in the interwoven networks of urban architecture and capital—and those networks' (in)visibility in the definition of labor and leisure. Corridors as metaphor, corridors as form, corridors as the non-spaces behind shiny facades, where the staff scarf their lunch.

The Corridors connects many nodes of influence: years of public-facing service work, solitary early-pandemic walks through ambiguously-defined public/private space, an imagining of the hidden transit utilidors beneath Walt Disney World, Georges Perec's Species of Spaces, Roger Luckhurst's 2019 cultural history of corridors as social architecture, the conveyor belt dread of first-person shooters, and childhood memories of televised global crises observed from the hallways of Midwest hotels.
Brendan Allen is a poet and educator who takes a lot of walks. He's the developer of the poetry video game CentoQuest, and his work has recently appeared in Always Crashing, Keith LLC, Apricity Press, DIAGRAM, and Prolit Magazine. He holds an MFA in poetry from Temple University, where he spent much of the early COVID-19 pandemic touring Philadelphia's parking lots and writing this chapbook.