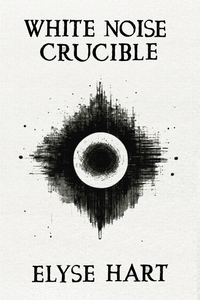 Poetry, chapbook, 36 pages, from Bottlecap Features.
White Noise Crucible is a poetic memoir that embraces—in few words—life and death with all its unanswered questions. It is a grasp for human connection that comes up empty, instead turning toward self-realization and inner peace.

The collection opens with a 12-word poem capturing the beauty and brevity of existence. Loosely based on the life cycle, the short poems move through the folly and disaster of relationships and other growing pains.

Yearning and rashness collide as the work divulges misgivings about the need for connection. Thoughtful emptiness echoes in the white space of each page.

As the poems weave disappointment with acceptance, the work begins to exhibit a growing maturity. Finding herself alone in the universe, the author changes course. Crestfallen loneliness transmutes to contented solitude.

White Noise Crucible is for anyone who has ever felt like they are free-falling into the void. It is poetry that stabs you in the heart long after you've stopped reading.
Elyse Hart is a poet and musician from Los Angeles. Her poetry has appeared in Slipstream, The Nervous Breakdown, Maudlin House, Ghost City Press, Okay Donkey, and others. Her ekphrastic poetry collection Poems for Squares: 29 Instagram Accounts in Verse is forthcoming in the spring of 2023. Elyse will also be compiling a collection of found poetry on the subject of reproductive rights. For updates, follow her on Twitter @elysehartpoetry or learn more at elysehart.com.