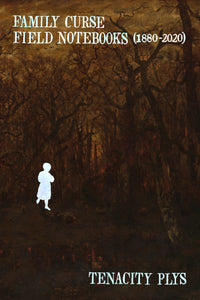 Prose, chapbook, 44 pages, from Bottlecap Features.
They say in town that every generation, fairies lure a member of Virgil's family into the local woods, never to be seen again. Virgil doesn't really care about that; they're just squatting at their aunt's vacant house during quarantine. But one night, they're awoken by a knocking at the back door that leads them into a tangle of family secrets, and a mystery that's as heartbreaking as it is chilling.

To avoid disappearing themself, Virgil has to piece together journal entries from three generations of their relatives, who all spent their lives wondering why their siblings were taken. If Virgil can solve the puzzle, they won't just save themselves — they'll put more than a hundred years' worth of family history to rest. This story of a neurodivergent family's struggle to understand themselves is by turns spooky, funny, sad, and hopeful despite everything.

"Family Curse is a sardonic epistolary mystery, a unique narrative braided with humor and slow-building dread."

—Sloane Leong, author of Graveneye and Prism Stalker

"Tenacity Plys makes sure nothing will hit us as realistically as fiction does. The work makes one question our very history and horror...simply let this novelette take you where it wants, and without question."

—Pascale Potvin, Editor-in-Chief of Wrongdoing Magazine

"With a measure of strangeness and a measure of humor, Plys artfully deconstructs a family curse. The reader is left with troubling questions: what does it mean to be alien, estranged, lost in the woods — even amongst one's own family?"

—Germ Lynn, author of Pressured Speech

"Family Curse is a densely packed and layered novella that merits a reread. It achieves an unusual and delightful mix of chills, comedic relief, and thoughtful consideration."

—Anna Veriani, author of The Winter Quarters
Tenacity Plys is a nonbinary autistic writer based in Brooklyn, with publications in Hobart, Ethel, Bullshit Lit, Alien Buddha, Word Gathering, and Pif Magazine. Xir Pushcart-nominated story "I Love My AI Son" will be featured in Alien Buddha's Best of 2022 anthology at the end of this year. You can find more of xir work through xir Twitter, @tenacity_plys, or website, tenacityplys.com!