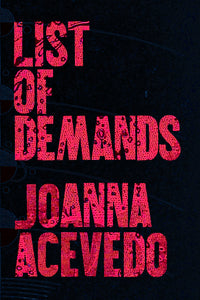 Poetry, chapbook, 32 pages, from Bottlecap Features.
List of Demands is an indictment of the self in love. Written in the body, for the body, List of Demands critically engages with the physical senses, the terror of pathological anxiety, and the changing of the seasons, in a brief chapbook that examines the way we love. "Lately I panic. The trees are all on fire. No one I know is dead" writes Acevedo in her poem, "I Have A Dream I Need To Tell You Something Important". This chapbook is sonically tight, repeated phrases echoing throughout the twenty five odd pages. Sounds of fear, nervousness, and anxiety reverberate through these poems, as Acevedo reckons with the all-encompassing fervor of love.

Acevedo makes promises, then immediately revokes them. "And yes, someday we'll be dead but I'm not / worrying about that right now. I am delusional / with love" she writes in "Cough It Out." Illusion features heavily in these pages. But at the core of these poems is a deeply romantic center, a fervent belief that everything will be okay, if one only closes their eyes and wishes on a star. Magic permeates these poems, a kind of delusional magic that only those who have been in love can truly understand. This is a chapbook for those who believe in love, and those who would put it all on the line for just the chance of a happy ending.
Joanna Acevedo (she/they) is the Pushcart nominated author of the poetry collection The Pathophysiology of Longing (Black Centipede Press, 2020) and the short story collection Unsaid Things (Flexible Press, 2021). Her work has been seen across the web and in print, including or forthcoming in Hobart Pulp, Apogee, and The Rumpus. She is a Guest Editor at Frontier Poetry, Associate Poetry Editor at West Trade Review, and runs interviews for Fauxmoir and The Great Lakes Review. She received her MFA in Fiction from New York University in 2021 and is supported by Creatives Rebuild New York: Guaranteed Income For Artists.