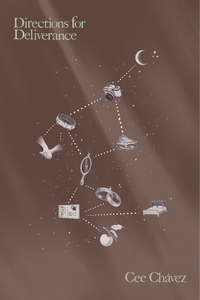 Poetry, chapbook, 48 pages, from Bottlecap Features.
Directions for Deliverance explores the complexities of queer love and reminds us of the transformative power in embracing one's own truth and journeying toward self-discovery. In their debut chapbook, Cee Chávez delves into the experiences shared between lovers, drawing the reader into a visceral and intimate world where the body is a conduit for distraction, exploration, pleasure, and healing. Chávez captures the tension between seeking solace in another and daring to unearth and confront the self.

The speaker in this collection embraces the challenging task of peering inward and summoning the courage to take ownership of their destiny. With unflinching honesty, Directions for Deliverance invites readers to reflect on their own journeys of love and introspection, compelling us to examine how our use of romantic love might ultimately distract us from the necessary work of meeting ourselves.
Cee Chávez is finding it difficult to write an artist bio that reduces them to the identities they hold, their previous publications, their highest level of education, or the work they participate in for monetary compensation. The accolades they are proudest of exist in the love they have cultivated and are continuously surrounded by. That being said, if you are interested in keeping up with their poetry or simply watching them exist on the internet, you can find them on instagram @highscorebussy (please don't expect them to take anything seriously in the name of professionalism).