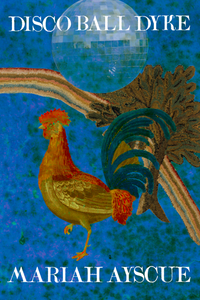 Poetry, chapbook, 28 pages, from Bottlecap Features.
Disco Ball Dyke begins with the Jesus of Church street creating a living sanctuary of their body for our community after being baptized by trans gods. Then our community of all genders and sexualities becomes a living sanctuary for all. You'll meet pansexual pancakes, demisexual dreams, discoball dykes, lesbian flowers, bi butterflies, sapphic singers, gay death droppers, asexual astronomers, polyamorous pixie dust and other loved ones.

The living sanctuary becomes a barricade at protests, marches and demonstrations. It becomes a collective vessel for joy surrounded by sweetness even through grief. It also is fought for by their mother and the creator of their own name.

This poetry collection of Black Trans sweetness celebrates how the QTBIPOC community embraces each other as miracles rather than spectacles. There is crucifixion in the eyes of those who perceive us as spectacles and get violent when our community isn't respectable. But, there is resurrection in the eyes of our community that knows we are miracles. I promise you will find freedom like the disco ball dykes fly on roller skates. And please know you are loved within your wholeness, realness and divinity.

Mariah Ayscue (s)he/him/king) is a Black, Trans, Artist, Activist and mental health advocate from Montclair NJ. He also identifies as a Christian Witch, Disco Ball Dyke, Pansexual pancake and a Demisexual dream that is expressed through his poetry. Mariah worked with the organization Girl Be Heard as a Directing Fellow and Company member under the instruction of Ianne Fields Stuart (founder of The Okra Project). This led to working with V (formerly Eve) Ensler known for The Vagina Monologues and Tony Porter (founder of A Call to Men) on creating the YouthACT council. He has also worked with The Nuyorican Poets Cafe community, Ameerah Shabazz-Bilal (artistic director of When Women Speak), Rescue Poetix (poet laureate of Jersey City), Talena Lachelle Queen (poet laureate of Paterson) to create safe spaces where poetry can help us express our many intersections and learn from each other. Mariah wants to reclaim the narratives, education and healing of the QTBIPOC community. It is the work he wants to do for the rest of his life.