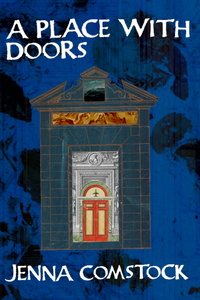 Poetry, chapbook, 32 pages, from Bottlecap Features.
A Place with Doors navigates the territory of a dream, where space and direction are interwoven with time and memory. In these poems the dream state functions as a portal, to a landscape where the dead are present with the speaker- often in forms other than visual. A memory lives as a sense of weight, time is taken and given as if it were a figure with arms, and grief is explored as a stagnant body of water—A sickness nothing like an ocean. Gravity inside a dream landscape has its own rules, and there is often more than one center.

These poems look at the dream state as if it were a tangible landscape, a place to return to and to hide in, to lift out of and look down into. Death is a place the speaker moves through, and it is a place that moves the speaker— out of the territory of dream, it catalyzes an exploration of relationships and places both real and imagined. In this collection death is a place with doors.
Born in Bangor, ME, Jenna is living on the East Coast again for the first time since moving to Santa Barbara, CA in 2006. She lives in Boston, Massachusetts, where she moved by train at the end of July. She is a public school teacher for 2nd and 3rd graders at an afterschool program near her apartment in Jamaica Plain. She had most recently been living in Oregon- Eugene, where she graduated in June from the University of Oregon, and before that Ashland, where she worked with Siskiyou Mountain Club to restore wilderness trails. Running is how she comes to know a city, and her favorite place to be still is in a body of water. Blue Pool, near the McKenzie River in Oregon, stands out furthest in sound and color. A Place with Doors is Jenna's first poetry collection.