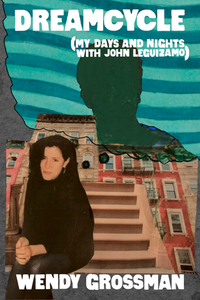 Poetry, chapbook, 36 pages, from Bottlecap Features.
Dreamcycle: (my days and nights with John Leguizamo) is a collection of poems that cycle through the poet's dreams, imaginings, and real-life encounters with the actor. It's throwback, fangirl poetry—a love letter not only to Leguizamo, but to a time and place dear to the poet—the 1980's and 90's, East Village, New York City.

These poems show us what it feels like to be on the outside looking in, whether it's the writer's longing to be considered a real New Yorker, or her desire to penetrate the wall between the celebrity and the starstruck. As readers, we get to wonder alongside her, as she lovingly recalls her downtown city girl days, what's better—to keep dreaming about and pining for Leguizamo, or to come face to face with him.
Wendy Grossman is a poet living in Rhode Island whose work straddles both the world of poetry and the world of mental health. Her work has been published in The New York Times, San Fedele Press, and Indolent Books Online Edition. Currently working on a social media cento project, and other poems, you can also find Wendy's personal blog focusing on cross-racial connection through the lens of whiteness, at www.wendyjanegrossman.com. This is her debut poetry chapbook.