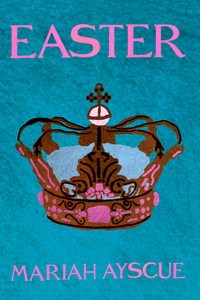 Poetry, chapbook, 52 pages, from Bottlecap Features.
Easter is a collection of prayers, spells and poetry for Black Trans and Queer people. It is a coming of age story of a Black Girl/Boy finding sanctuary in the Black church, but not being able to be queer or trans in the church due to respectability politics. Then growing up in overwhelmingly white spaces; where the gatekeepers of those respectability politics crucify us by forcing self abandonment. Do you choose to stay OR leave?

We abandon ourselves when we allow white people to crucify us, then allow this disillusionment of ourselves to be resurrected in the image of white supremacy. But we can heal the racial trauma, transphobia and queerphobia we've endured by finding sanctuary in each other. This is for the disciples of Saint Marsha P. Johnson. Come hear  he good news of black trans power, bigender blues, a drag king, a drag queen, a pansexual pancake and a demisexual dream.
Mariah Ayscue (pronouns:she/him/queen/king) is a Black, Trans, Artist, Activist, Christian Witch, who has Bipolar 1 and is an Eating Disorder and Suicide survivor. He is also a proud Directing Fellow and Company Member alumni with Girl Be Heard, where he began writing his spoken word poetry. He wants to reclaim the narratives, education and healing of the QTBIPOC community through his art. It is the work he wants to do for the rest of his life. His favorite quote is by Zora Neale Hurston who says, "If you are silent about your pain, they'll kill you and say you enjoyed it". He will never be silent about his pain or his triumphs in hopes that people will know they are loved.