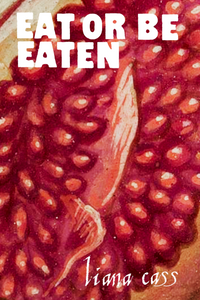 Poetry, chapbook, 24 pages, from Bottlecap Features.
Eat or Be Eaten is a collection of prose dedicated to the overflowing heart. It's a cautionary tale of how love can consume you if you let it. Following the highs and lows of a deadly infatuation, this chapbook allows the reader to be immersed in the passionate and painful experience of young love. Uniting under the common human experience of love, every heart that beats learns how to break and to be broken. To love is to be loved, to hurt is to be hurt, and to eat is to be eaten.
Liana Cass brings the darker side of romance to life using visceral imagery and melodic sonnets.  Themes from classic literature, religion, and mythology aid its descriptions of heavy emotions. These poems are meant to comfort those struggling with loneliness and hard relationships, just as they have been cathartic for the author in writing. There are present themes of violence, death, and drug use throughout the poetry, so reader discretion is advised.
Liana is a college student located in Colorado, completing their psychology degree at CU Boulder. They were born in New Jersey and grew up in Longmont, where they were homeschooled for much of their life. They spent their childhood reading, exploring national parks, and enjoying music. They found most inspiration from reading classic literature in high school. Works by Homer, Shakespeare, and Mary Shelley formed the basis of their creative style. In their natural environment, Liana can be found at their residence in Boulder with a good book and their cat curled up on their lap.