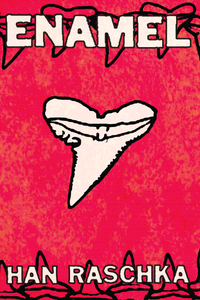 Poetry, chapbook, 20 pages, from Bottlecap Features.
Survivorhood is as much about the deconstruction as it is the reconstruction. In Enamel, we witness Han Raschka disassemble themselves through poetry, whether it be yanking teeth or pulling ribs. Hair is shed, flesh is burned, and muscle disintegrated, all so Raschka can "rise again/again/again."

Enamel also touches on the exteriority of trauma, how surviving it affects those closest to us. Raschka asks their mother "can you imagine/a world/without me?" They reflect on their grandmothers, their partner, loved ones from the past, and even their hairdresser, all in pursuit of determining if "the space I fill/matters all that much." Enamel is a collection not just about an individual's journey with survivorhood, but how surviving trauma is a collective experience. xt 
Han Raschka (they/them) is a Pushcart-nominated poet whose work focuses on trauma, recovery, and queer existence. They have been published in various periodicals such as Anti-Heroin Chic, Eunoia Review, The Lake County Bloom, and CERASUS Magazine, among others. They have received fellowships from the San Francisco Creative Writing Institute and Brooklyn Poets and were featured as Poet of the Week with Brooklyn Poets. Their first collection, Splinters (Collapse Press) was released in 2022 and was nominated for the Edna Meudt Poetry Book Award. Han was a 2023 finalist for the Charles M. Hart Jr. Award at the University of Wisconsin-Madison, where they study creative writing. They currently reside in Madison, WI with their partner.