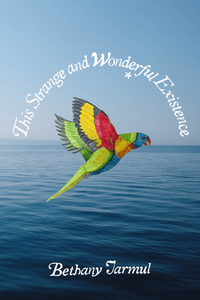 Prose, chapbook, 36 pages, from Bottlecap Features.
This Strange and Wonderful Existence is a collection of 23 surreal prose poems that explore the complexities, weirdness, and joys of parenthood and the multi-faceted journey to understand oneself and the world—a place full of love and loss, fear and wonder, clarity and uncertainty. These prose poems wrestle with what it means to be human—with body, mind, and soul—and to be a parent, tasked with raising equally complex beings in tiny bodies, in a world where dangers are everywhere.

Like the birds that appear within this chapbook's pages, these poems soar with whimsy, magic, and imagination and dive into the vulnerable, deep, and frightening places. With exquisite language and captivating images, Jarmul paints a world that is dripping with wonder and ripe with sensory details waiting to be plucked by the reader. Unwrap this collection like a gift—the gift of seeing the world in through a unique, kaleidoscopic lens.
Bethany Jarmul is a writer, editor, and poet. Her work has appeared in more than 50 literary magazines including Salamander, Gone Lawn, Emerge Journal, The Citron Review, Identity Theory, and Literary Ruby. She has also received nominations for Best of the Net and Best Spiritual Literature. Her essay "The Pause Button" earned first place in WOW! Women on Writing's 2022 contest. Bethany enjoys chai lattes, nature walks, and memoirs. Originally from West Virginia, she lives near Pittsburgh with her husband and two young children. Connect with her at bethanyjarmul.com or on Twitter: @BethanyJarmul.