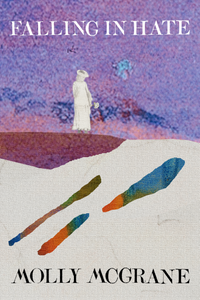 Poetry, chapbook, 24 pages, from Bottlecap Features.
Falling in Hate is a heroic sonnet crown with a modern twist and an illuminating finale about growing up. This chapbook is a tribute to the complexities youth face in navigating themselves and the world, including questioning and reckoning with body image, religion and spirituality, substance abuse, sexuality, and the pervasive and overwhelming powers of love and hate.

In addition to marrying modern diction and experience with a traditional sonnet crown, Falling in Hate also introduced an entirely new variation of form. Like the human experience, these incremental poems are made to be revisited from different angles and directions. None of these poems can be fully understood as stand-alone pieces or even as a collection read a single time from left to right.

In short, Falling in Hate captures the overwhelming experience of simply growing up.
Molly McGrane is an author, artist, and student at Boston College. She studies applied psychology and social work, which heavily influences her writing. She has been published by The Torrey House Press, The River, TED.com, and more. You can find more of her work at mollyrosemcgrane.com or on her Instagram @crunzo.