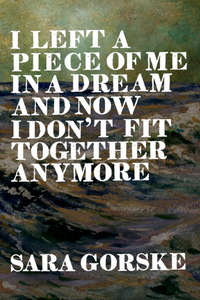 Poetry, chapbook, 36 pages, from Bottlecap Features.
I Left a Piece of Me in a Dream and Now I Don't Fit Together Anymore traverses the boundaries of loneliness: what we feel when we are truly alone, the isolation of being the only one feeling a certain way in a situation (or believing oneself to be), and the particular solitude that comes when standing next to someone and realizing they are far away from you. Sometimes we search for a solution in another person, only to realize the regret we feel after they've left our lives eclipses the original loss. Sometimes we embrace the solitude only to discover more depths yet unplumbed, where words and memories and imagination are our only companions. And sometimes we discover that loneliness is necessary, if only to inspire hope that it will end.

In the manner of dreams, these narratives move and shift and blur into each other before repeating themes in a different space and shape, reminding the dreamer that while moments are temporary, memories are lasting, and emotions are universal. Even when alone, there is a comfort in knowing we are connected to others in our heartbreak and self-deprecation, even if they are distant in time or space, and the collection ends on a note of hope that we might yet piece ourselves back together.

All of these poems were written in the first two years of the author's PhD program, which began during the COVID-19 pandemic. They have only been lightly edited from the date they were first penned, to reflect the raw thoughts they capture on upheaval, imposter syndrome, and unfamiliar spaces both physical and metaphysical.
Sara Gorske is a scientist, engineer, yoga instructor, and lover of all things word-related. She is currently working toward her PhD in Materials Science but believes that science is not worth doing if it is not balanced equally by the act of creating, so she writes poetry in her spare time (which is usually when she should be sleeping). Graduate school can be a lonely and isolating endeavor, and she hopes that by sharing some of her thoughts that others can see their own beliefs reflected, and maybe learn to repudiate some of the negative narratives we perpetuate about ourselves.