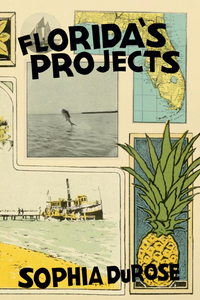 Poetry, chapbook, 24 pages, from Bottlecap Features.
Florida's Projects is a collection of poetry that takes root in Florida's misunderstood underbelly. It is about growing up in a place of disreality, becoming who you are in a place inextricably linked to escapist narratives of the tourist while one's feet are locked in its sandy soil. It considers the inverse of logic that accompanies dream-making schemes being in your backyard; what do you ask for as a child if not a trip to Disney World?

The poems stretch through conversations and locations of realness, while the weight of illusion presses upon them. This collection asks how we see our hometowns as locations of destination and intense intimacy. The shallow bed of these poems is made from the topics of labor, wealth disparity, and family. Florida is an unzipping coastline, as geometrically complex as any other hometown, but one with a smiling cloud lauding over what is assumed to be its most valuable attraction. This chapbook begs you to consider otherwise.
Sophia DuRose is a twenty-four year old ex-circus performer and current poet from central Florida, who now lives in Philadelphia. She graduated summa cum laude from the University of Pennsylvania with an English degree in 2021, and is now an MFA Candidate at Temple University, studying poetry. As Assistant to the faculty Director of the Kelly Writers House she coordinates programs such as Fellows and online book groups. She is also a teaching assistant for the Coursera course, ModPo. She lives with her pet pug, Midge.