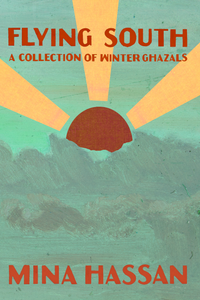 Poetry, chapbook, 36 pages, from Bottlecap Features.
Flying South is a series of meditations. Written in the ghazal form, each poem in the collection approaches ideas that are traditionally expressed through ghazals: love and longing—for people, cities, and moments.

The chapbook was born out of a challenge the poet set for herself to write a poem a day for the duration of her travels from the UK to Morocco at the end of 2019. It quickly evolved into a shifting portrait of the overwhelming beauty of daily life. Throughout it, the poet is in awe of everything: walking, the faces of strangers, the sun, and the sky. The newness of travel which turns cold winter days into constant sources of inspiration is also a cause of yearning. In the ghazals, places are found and loved only to be lost days later to a bus ride to the next destination. The acceptance of loss becomes part of the joy of discovery.

Looking back at the last moment before the pandemic, when the freedom of such unbounded wandering was possible, the final lines of the last poem of the collection seem to contain both a premonition and hope: "This snail academic bites her lip/ Trying not to imagine the future⁠— a full/empty illegible postcard."
Mina Hassan was born in Chicago and grew up in Karachi, Pakistan. She is a recent graduate of Sarah Lawrence College, where she studied comparative literature and politics. She is a co-creator of the South Asian literary magazine DHOOP Journal (www.dhoopjournal.com ) and is currently working on a novel.