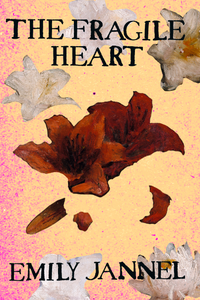 Poetry, chapbook, 36 pages, from Bottlecap Features.
The Fragile Heart is a group of poems with themes of love, loss, relationships, and first love. Jannel likes to focus on her own personal experiences that can provide realistic views of what love looks like. This book discusses the first relationship where Jannel fell in love with a man she was completely smitten for. Every writing piece was inspired by their relationship and exposes the raw feelings felt between them.

It is a collection that stays in the themes of love and what is known as the honeymoon phase where Jannel hopes her readers can relate to. Most people have experienced the honeymoon phase where they only see the cute moments that make one feel most in love. This book evokes those feelings to make readers connect and get insight on what falling in love can feel like and sweet moments.

As the reader gets closer to the end of the book, they will find the story has come to an end for the relationship. It expresses the loneliness of Jannel as she loses the love of her life to another woman. Finding out that the one she fell for, didn't fall back. This creates themes of loneliness, grief of a relationship, and loss.
Emily Jannel is a Puerto Rican writer from Tampa, Florida. She has been writing fiction stories since her high school days and took it more seriously when she attended the University of South Florida for English with a concentration in creative writing. Jannel is working as a first time English teacher in Tampa, Florida. She has been featured in online magazines such as Bloom Magazine, Girl Soup Media, Potted Purple, etc.