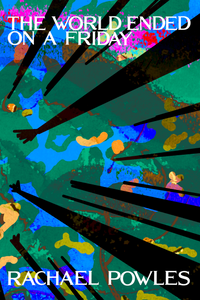 Poetry, chapbook, 40 pages, from  Bottlecap Features.
THE WORLD ENDED ON A FRIDAY is a collection of poetry exploring the processes of moving away and coming home, falling in and out of love, growing up and staying young. Beginning on March 13, 2020 - when the poet moved back to her hometown for the foreseeable future - and moving across the seasons, these poems depict the push and pull of human emotions in times of crisis using a stream-of-consciousness style.
Ultimately, this book aims to share that even on the cold gray days, searching for sunlight is still worthwhile.
Rachael Powles is poet and playwright currently based in Ottawa, Ontario. Her work draws on themes of femininity, family, and home, and takes inspiration from her upbringing in rural Upstate New York. Her poems have appeared in Pile Press, Buzzsaw Magazine, Stillwater Magazine, and Loose Tooth zine. She was the first runner-up in the poetry category in the 2022 Ithaca College Writing Department Contest and winner of the Golden Egg Award for New Play Development at the 2021 Ithaca College New Play Incubator. THE WORLD ENDED ON A FRIDAY is her first book.