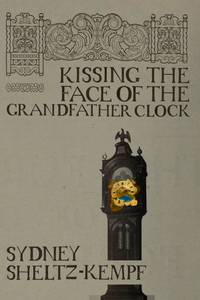 Poetry, chapbook, 32 pages, from Bottlecap Features.
Kissing the Face of the Grandfather Clock engages the world in the concept of prospective grief: grief for families separated by physical and emotional boundaries, for friendships that simply drift apart, for the happy memories of childhood that fade so much faster than we want, for the time the world lost in the recent pandemic.
Hugs with grandfathers that smell like Bananas Foster and wood shavings. Summer nights writhing to the beat of the tango and the curves of a crazy straw. Not realizing that it would be your last trip together to Chicago. (The resulting cavity after the depression and grief convinced you not to brush your teeth). Oceans of memory caressing your dreams and eroding the edges of what you want to remember the most. The moment you realize that you are out of time.
"This is what grief is: / walking the familiar paths / while memory bursts into bloom around you like spring, / something that we will call holy by origin / and something that feels like a gift / because you are not left with entirely empty hands" opens "Tripping Over Nothing" near the end of the chapbook. There is a journey through this collection that allows each reader to find the courage to press hard enough on the bruise of their grief of lost time to remember that they have healed from it, at least a little. The rawness of the beginning is soothed by the end into a throb of remembrance and appreciation for what was: some small closure with the closing of the book, by the gentle honorific action of Kissing the Face of the Grandfather Clock.
Sydney Sheltz-Kempf began writing poetry to cope with the stress of her PhD program. Previous work can be found in Intima: Journal of Narrative Medicine, Atlas + Alice, Sonder Midwest, Dying Dahlia Review, Hilltop Review and elsewhere. Previous chapbooks include Adding Up Forever: A Memoir (Poet's Haven, 2018) and An Experiment Gone Wrong (Audience Askew, forthcoming). Sydney Sheltz-Kempf is also an avid proponent for the role of poetry in the field of Narrative Medicine, and her talks can be viewed online at PhdSOS or STEAMid.