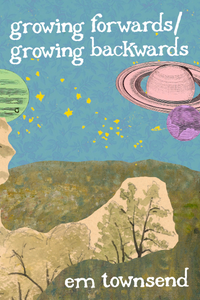 Poetry, chapbook, 28 pages, from Bottlecap Features.
em townsend's debut collection growing forwards / growing backwards is a reflection on memories surrounding identity, coming-of-age, and the monotony of time during transitional moments of life, spanning the period from preschool to college. With a strong connection to childhood, and its influences on adolescence, each piece in the manuscript explores the concept of place-based memory. From the waters of northern Michigan and the woods of northern Virginia, to the complex headspace following a friend's death and the perpetual joy of a fulfilling queer relationship, these poems traverse literal and figurative locations alike. The title, and the corresponding two sections, refer to the dichotomy between growth as a result of a positive experience, and 'forced' growth or self-reflection coming out of a negative situation: the moments of shame and grief that have the potential to humble, enlighten, reveal, and, eventually, rebuild.
This non-chronological presentation of defining moments and relationships mimics the nonlinear and ambiguous nature of growth itself. In fact, the depicted relationships with both people and time only get more elastic as the speaker ages and matures. The first and last poems' titular motifs are cyclical and intertwined with each other: 'growing backwards' often feeds into 'growing forwards,' and vice versa. In these poems about ever-evolving identity and its roots in the places that change us, Townsend illustrates how memories are affected, and enhanced, by knowledge gained in hindsight. growing forwards / growing backwards is about fluidity in all its forms –– and how emotional experiences that lack clear resolution can still be poignant and resonant much further down the line.
em townsend (they/she) is a queer nonbinary writer and student from the Washington D.C. area. An English major and radio station nerd at Kenyon College in Gambier, Ohio, em enjoys watching '80s teen movies, reading, and looking at trees. Their work has been published in Fish Barrel Review, The Purposeful Mayo, Blue Marble Review, Club Plum Literary Journal, and HIKA magazine, and is forthcoming in West Trade Review. townsend's growing forwards / growing backwards (Bottlecap Press, 2023) is their first collection.