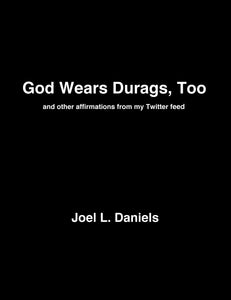 Prose, paperback, 80 pages, from Bottlecap Press.

Affirmations are like apples...wait, that's not right. Whatever the case, people like knowing that there's a purpose to this thing called living. This is a collection of words, all pulled from the Twitter feed—nice words, kind words, loving words, big words, little words. They come with pithy little titles, too. The main objective is for you to have a pocket-sized version of sunshine wherever you go. Cause I mean, even God wears durags, too.

"Joel's words are where I go when I need some inspiration. And he never lets me down."

-Lin-Manuel Miranda

"Joel's way of mixing humor, positivity and insight make me jealous. They also make me want to be a better person so I'm not so jealous. He's like a lovable annoying writing dog (or cheerleader - your choice) who only sees the good in you. I don't know how he does it, but he has a way of making the most reluctant of us see the good in ourselves, too."

-Angela Nissel

"Joel has a way of looking deep into your soul and lovingly mending it like your grandmother would your favorite dress. He makes people, many of whom he has never met, feel seen, loved, and safe."

-April Reign

Joel L. Daniels is a writer, performer, and story-teller, born and raised in the Bronx. He is the author of A Book About Things I Tell My Daughter, published in 2017 via Bottlecap Press. He was the recipient of the Bronx Council of the Arts BRIO Award for poetry, and his work has been featured in the Columbia Journal, The Boston Globe, A Plus, CNN Money, The Towner, Fatherly, Thought Catalog, Phila Print, The Smoking Section, Blavity, Huffington Post, BBC Radio, RCRD LBL, URB, BRM, AllHipHop, The Source, RESPECT, and HipHopDX.

He has spoken/performed at the Apollo Theater, BRIC, Joe's Pub, Rockwood Music Hall, Columbia University, NYU, St. Francis College, Lehman College, City Tech, The National Black Theater, Webster Hall, Pianos, and Brooklyn Bowl.

He lives in the Bronx and is the father to a two-year-old, Lilah. He can be found at @joelakamag on Twitter.