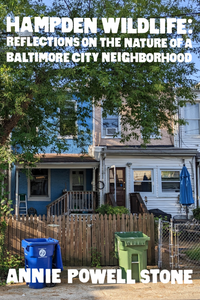 Poetry, chapbook, 32 pages, from Bottlecap Features.
The Hampden neighborhood of Baltimore City, Maryland has old homes and new art, big dogs and little cars, tall trees and narrow alleyways. It's a quirky, charming, stinky, beautiful mess of a place. This chapbook peers at its paradoxes, specifically with an eye towards the interaction between the modern, urban world and the natural, green world. Interspersed with a series of nine, nine-line vignettes based on real interactions with neighbors, the poems in this collection track one year, from Spring to Spring, as the poet walks through and lives in Hampden.

Annie Powell Stone has lived in Hampden for over a decade and has a walking commute through the neighborhood, allowing for daily observations and musings. For urban life: Hampden is a mostly-residential neighborhood in north, central Baltimore, known today for its restaurants and festivals. For nature: in addition to the poet's own garden, which has spread beyond her postage stamp of a yard to the communal space along the sidewalk out front, the neighborhood is bordered to the east by the Stony Run Creek, which allows for pastoral dreaming and soft smiles under tall trees.
Annie Powell Stone (she/her) is a fan of peanut butter toast. Her poetry has been nominated for The Pushcart Prize and Best of the Net. Her work has appeared in over a dozen literary journals; she is on the Reader Team for Capsule Stories. Annie has a Master's in Education from the University of Pennsylvania, and a Bachelor's in English from the University of Maryland. She lives on the ancestral land of the Piscataway people with her husband and two kiddos in Baltimore City, MD. Read more: anniepowellstone.com