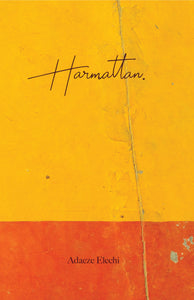 Poetry, prose, chapbook, 51 pages, from Bottlecap Press.
Harmattan is an exploration of loss guided by a traditional African understanding that whatever has tasted life can never truly die. This book is a quest for stillness amidst the chaos of grief – enough stillness to hear the overlapping melodies of life and death. It is tasting the peculiarly sweet fruits that choose the hardest seasons to ripen. It is the quiet room where our foremothers wipe our tears and remind us that we are made of relentless, boundless, mighty love, and that love never leaves us empty-handed.
Adaeze Elechi is a Nigerian writer and filmmaker. Her works are influenced by her desire to better understand the ways in which individual and collective histories (those remembered and those forgotten) shape our present understanding of ourselves. Her pieces have appeared in Guernica Magazine, Stylelikeu, and mindbodygreen. Her original films have screened at the St. Louis International Film Festival, and the San Diego Black Film Festival, among others. She lives in Brooklyn, NY above a coffee shop named after a bird.