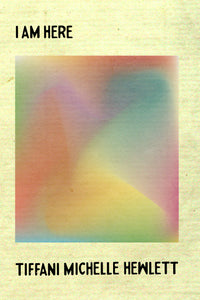 Poetry, prose, chapbook, 32 pages, from Bottlecap Features.
I AM HERE is a chapbook collection of poetry and prose about the cycle of the pleasant beginning and blurred ends. Through the uncertainty of where you are and anxiety of where you want to be the author holds your hand through personal experiences of dark nights, sweet mornings, grief of those lost and the revelation of finding themselves. There is no set journey for every individual, we are all different standing before the many directions' life can take us. Though even in these moments we must remember that our situation is not something to be apologetic about. Our feelings are not something we have to dissect for others assurance.
Taking life head on one step at a time no matter where you are. Grabbing the voice kept deep down and letting it echo through the universe. I AM HERE is reflecting the author taking their voice and power back. Reclaim their body, mind and soul bringing them back home to the heart where they belong. Encouraging other survivors and victims' to seize the moment and stand strong together.
Little drops of water, little grains of sand, make the mighty ocean and the pleasant land.
Tiffani Michelle Hewlett is a Native American/German Poet and Artist who was born in Roanoke Rapids, North Carolina. She believes in the power that one voice can make a difference. She has always been inspired by the raw honesty of German poet Charles Bukowski and the wisdom of her Oma (grandmother). While growing up dealing with Social Anxiety, Depression and Verbal Abuse relationships, a moment in time changed her life forever that led from a voice once silenced to a voice that will be heard.